Albion Online - The other design issue I have is the look of the T8 armor
First of all I start with a quatation,
what do you think about the T8 design and our lovely boner flail
a wise man once said:"PLZ fix that Visual glitch -.- ... its almost a shame to walk with a stick with an erection with a ball on the tip .. .. with spikes.."
if you dont know what I mean, here is a picture...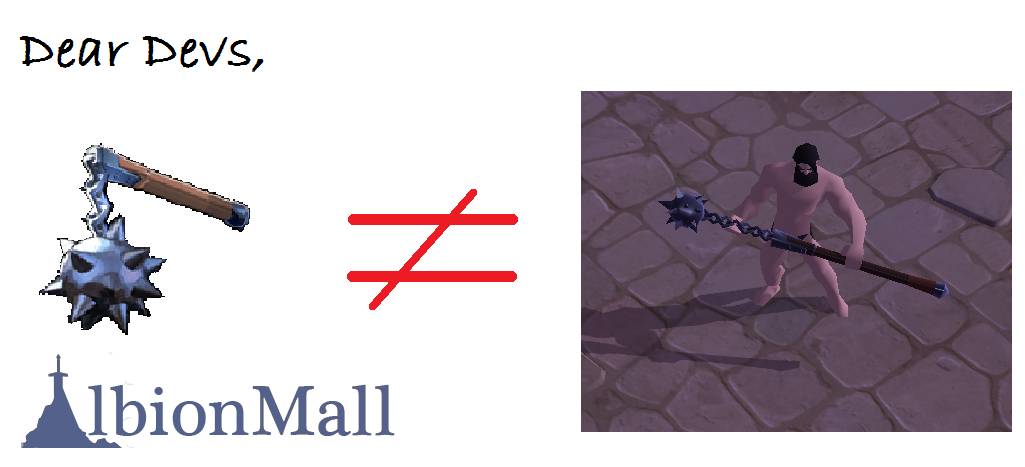 it really isnt hard to make just a little animation for this spiked ball, I dont want to play a game which is pegi 18 just because of a weapon.
I hope this will be different in beta 2.
the other design issue I have is the look of the T8 armor, if the POLL option wouldnt be deactivated I would start one but I cant.
I mean the armor looks better, the higher you get in Tier, but since you get to T8 wtf?! I have nothing against a white theme for the end gear but, for now the armor, especially the plate one, looks like there would be a fighting sheep, which hasnt been shaved for 10 years, it is a white ball for me, it has to look dangerous or at least majestic and not like some who is in the KKK. I rather wear T7 just for the look then this T8 stuff, because Im autistic and design matters to me.
do you have the same opinion or do you dont care about the looks? for me the T8 armor doesnt look like end gear.