Albion Online Armor System Explained
ARMOR GUIDE v 1.0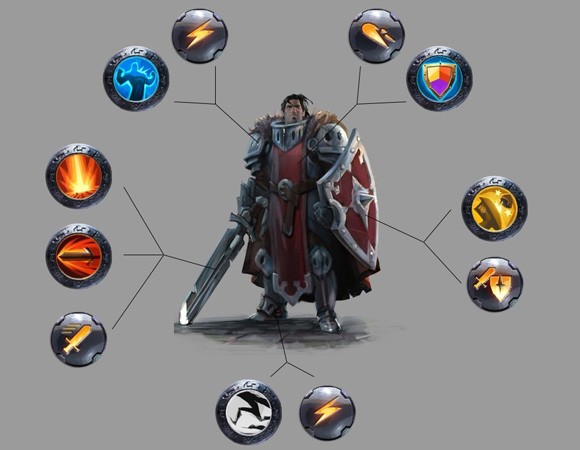 ARMOR TYPE
Light
Medium
Heavy
MATERIAL TYPE
Cloth
Leather
Plate
ARMOR STYLES - (Armor Type + Material Type)
Light Cloth, Medium Cloth, Heavy Cloth
Medium Leather, Heavy Leather, Light Leather
Heavy Plate, Light Plate, Medium Plate
ARMOR CLASS - (three in total)
Most inner ring of the destiny board
Middle ring of the destiny board
Outer ring of the destiny board.
BASICS
Armor types are split up into three categories as mentioned above: light, medium, and heavy. Each type shares the same abilities and passives reguardless of the material type. Light armors provide enhanced damage, and offensive abilities. Medium armors provide slows, movement speed boosts, crowd control defense, damage reduction and stealth. Heavy armors grant bonus life, armor as well as defensive abilities.
In albion online there are two types of damage, physical and magical. We will use PR to describe the armors physical resistence and MR to describe the armors magical resistence. The higher your PR then the less physical damage you take and the higher MR, the less magical damage you take. Melee weapons and bows deal physical damage while staffs deal magical.
Material types are split up into three categories aswell: cloth, leather, and plate. The material composition determines the armor's resistance ratios. For example: cloth armors will have a higher MR stat then the PR while plate armors will have a higher PR stat rather then MR. Leather armors are given a balanced PR & MR stat that is neither the best or worst.
COMBAT PROGRESSION vs CRAFTING PROGRESSION
You will notice that the destiny board is split up into three main sections, combat, gathering, and crafting. For now we will talk only about Combat vs Crafting trees. When it comes to armor crafting, the progression goes based on the armor's material type for example you can begin crafting Light Cloth, then progress into crafting Medium Cloth and finally Heavy Cloth or you can do Heavy Plate into Light Plate, then into Medium Plate. This allows crafters to focus on gathering fewer resource nodes to accomplish their tasks.
On the combat side of the board, armor progresses based on armor type. This is because armor's of the same type share the same passives and abilities. For example: a player choosing the Heavy Type of armors is working towards being a tanky character. He will begin progression with Heavy Plate, then move onto Heavy Leather and finally into Heavy Cloth. Because the combat progression changes the material types as you go up in the destiny board, this limits combative players from easily crafting all of their own armors. While it may feel a bit more confusing this positively affects the economy by adding value to players who focus more on crafting.
ARMOR CLASS
One thing you will notice is that the destiny board is surrounded by three rings. An inner ring, middle ring and the outer most ring. On each ring are three armors. The inner most ring is known as Class 1 while the middle ring is Class 2. The outer most ring is Class 3.
CLASS 1
Heavy Plate, Medium Leather, Light Cloth
CLASS 2
Light Plate, Heavy Leather, Medium Cloth
CLASS 3
Medium Plate, Light Leather, Heavy Cloth
As you go up in class the armor's gain extra health points as well as an increased PR+MR score. This also means the armors have less vulnerabilities. This however comes at a cost, the higher class armors require rarer resources as well as more money to repair. Choosing your armor style can be tricky since the differences between classes are not extraordinary. Heavy plate for example may be just a class 1 armor but it still has the highest physical resistence of all the armors and is considerably much cheaper to produce then Heavy Cloth. Class 2 armors are a middle ground in costs while also providing a more balanced protection against both physical and magical damage. Class 3 armors will be best used in smaller battles where every stat counts such as GvG battles.
ARMOR NOTES FOR ALBION ONLINE
LIGHT ARMORS
Description - Light armors possess little protection to the wearer but offer bonus damage and offensive abilities. Blink allows a player to manuver aggressively on the battle field and then escape danger.
PASSIVES INCLUDE
Aggression - boost to attack damage
Charity - Increase potency of your Heal spells
Mind - Decrease Cooldowns on attacks.
ACTIVE SPELLS (Helms)
Magic Focus - Increase magical attack 50% but reduce movement by 75%
Beserker Stance - Increase Phys&Magic damage by 37%, reduce Armor -41
Energy Regain - Replenishes energy greatly
ACTIVE SPELLS (Chest)
Blink - Teleports a short distance
Forcefield - Knocks targets away from you dealing small damage.
IceBlock - Coats user in ice making them immune for a few seconds.
MEDIUM ARMORS
Description - This set of armors provides moderate armor, mobility and utility abilities that slow down targets or reduce their damage. Unique spell Fade Out allows a player to be either defensive or offensive by escaping danger or moving in for a sneak attack.
PASSIVES INCLUDE
Movement Speed - Increase movement speed
Tenacity - increase resistence to movement imparing effects
Authority - increase duration of your CC effects by 20%
ACTIVE SPELLS (Helms)
Unstoppable - immune to CC for 5s
Defensless Rush - Increase movement speed 72%, decrease armor by 65 (10s)
Meditation - Greatly reduces Cooldowns
ACTIVE SPELLS (Chest)
Fade Out - turn invisible with reduced movement speed
Trembling Aura - slows targets within 5m of you by 44%
Enfeeble Aura - reduce damage of all enemies near you by 60%
HEAVY ARMORS
Description - These armors provide the most armor and life potential as well as defensive boosts. Heavy armor can take a beating as well as punish foes that choose to attack them using reflective damage.
PASSIVES INCLUDE
Constitution - Increase life
Toughness - Increase armor
Reflection - Returns damage onto attackers
ACTIVE SPELLS (Helms)
Retaliate - reduces your armor by 54 but returns more then twice damage back onto attackers (5s)
Stone Skin - Increases armor greatly but reduces attack by 50%
Emergency Heal - Instantly heals caster and allies within 3m for a small amount of life.
ACTIVE SPELLS (Chest)
Root Prison - imobilizes you and enemies near you for 4s
Pull Area - pulls all targets within a 5m radius towards you
Persevere - Removes CC and provides small damage absorbing shield
* Data is based on Tier 4 armors.
- due to balancing taking place, some above values may nolonger be correct.