Albion Online Ideas for Gathering Changes and FAQ
Q: Get rid of 3 tiers of materials in one zone. For instance, in a zone with 2-4 tiers in it, get rid of 2 and split it into 3 and 4 (ratio less than 50:50 is fine, some nodes could even disappear). Most of the higher tier people pancake the higher nodes and leave the lower. Having nothing but 2 when you are hunting for 3 or 4 is rather frustrating. Even more so when you are hunting for 5 and 6 and all you see is 4. By removing the lower tier and splitting it, you are giving more players a chance to get some of those materials.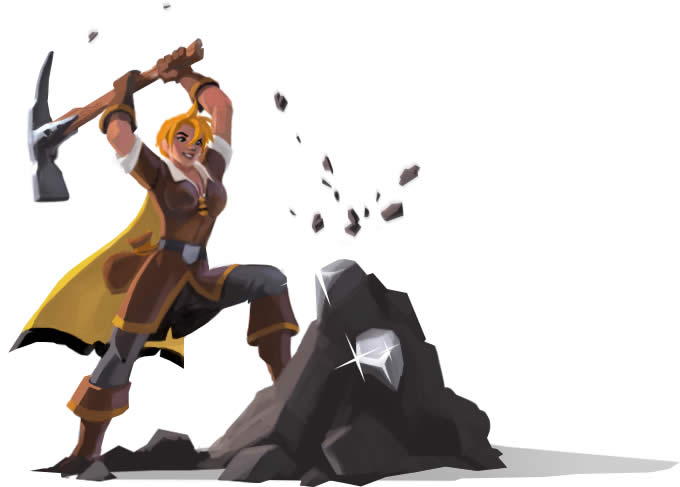 A: I think the 3 tier split in zones works perfectly. If you know the 3-4 will be gathered in a zone go a tier or 2 higher because you know in the higher tiers the mats you are looking for will be overlooked because people will be grabbing the the mats of higher tier. And I know that might mean moving up to yellow/red zones a bit sooner but you know how this game works right? Higher risk means higher rewards.
Q: Create a better ratio of other nodes to fiber. Fiber is all over the place and no one is grabbing it to sell it, as it is much cheaper on the AH's than any other material at any level. A good idea would be to just get rid of some of the fiber nodes and create a more equal ratio with other nodes by increasing them. Or at least let us know that the ratio is already fair. I don't think it is since fiber is in every zone and nothing else is.
A: Sorta agree with the fibers because they are on every map. It will get a little better when highlands comes out because there won't be any fibers there so the prices in towns for those areas will be higher I believe.
Q: Take away the rings and make the special nodes secret. Reward those who are really going out there to get the mats. There are hawkers who go after only the special nodes. Make it more exciting and give something to the grinders. Also, because you need the next tier's tool to get the special, only give special if the tree is being chopped with the appropriate tool (e.g. tier 4 special can only be gotten with expert tool).
A: The rings are fine because they change randomly all the time. Also it makes joining a guild more beneficial because if a guildie finds one and can't get it he can call out in guild chat to get someone who can. It add to the teamwork side of gameplay this game is aiming for. The legendary are already rare as all hell to come by, why make them invisible too? I feel if its rare enough to have a guildie camp by it so no one else can take it then it's worth being seen. This can encourage more pvp too if there was a way to draw people to them but that sorta makes them a little less rare because as I said before, they are already hard as hell to find and I like it that why.