GvGs are a sensible topic as its system is defined by Albion's goals as a whole
What I mean with this is that we'll have to make a choice on what type of game Albion is and then figure how GvGs will adapt to it.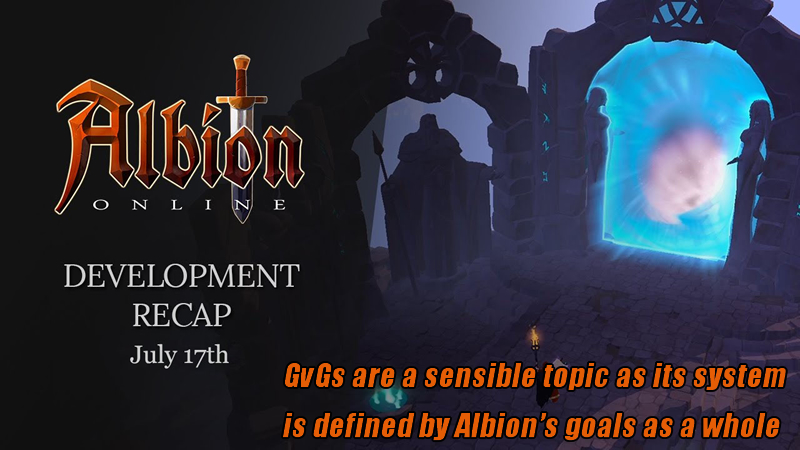 If, for instance, we consider that Albion Online is a massive multiplayer online sandbox open world PvP game with player-driven economy (which seems to be what the DEVs are going for) then the focus should be on macro-guild/alliance organization and freedom of means to achieve a goal. If we start to create restrictions and more restrictions in order to appeal to small specific groups then we'll head to a themepark structure.
More, if we want organized 5vs5 PvP combat without any (or minimal) interference from "zergs" then we'll have to change Albion Online's genre. We cannot have a sandbox open-world PvP MMO that restricts the main PvP battles and/or imposes endless rules to its systems. Being a sandbox, theoretically, implies that there is freedom of choice for the players to achieve goals.
Let me explain my point using your situation Jonah: you have a 100+ (iirc) guild and a 200+(?) people alliance that has a single 5 people core to play GvGs. One that is extremely skillful in this meta to the point you are winning everything. So, your alliance is best in specific combats, point taken. By the other hand, you are facing an alliance of 1200+ people with 10+ cores, and they (us) are actually coordinating continuously to achieve advantage in combat.
With all the respect (and putting PvP trash talk aside), it seems to me that you guys are somewhat stuck on the mentality of themepark MMOs/MOBAs of purely inside-instance balanced matches. Now, if we remember that is not the genre of Albion Online, we can easily see your mistake. First, you used to complain about gear, the then problem became GvGs quantity, then no-shows, then this, then that. You see, there will always be unbalance inside the GvG instance because it is a mirror of the outside structure of guilds/alliances. You seem to fail to see that we are not only in war inside the GvGs, but outside of it. Our alliance organizes itself in every little possible way to win in economy and structure. Now THAT'S our point taken. It is absurdly hard for us to coordinate 1.2k+ people towards a goal (no wonder so many alliances break during time, but we aren't). For instance, Last week we were facing at the very same time: red army, unsullied, bunch of monkeys, rising on, exodia alliance (lod + mostly harmess), and that JUST ON SOUTH FRONT. On western front we also had fights against envy, war legends, KDS and several other smaller guilds. Can you imagine the structure needed to hold 10ish castles, 10+ chests, 10~20+ GvGs a day in several war fronts?
In that sense, no-shows are an actual strategy. One that YOU also used, by the way (I could say with factual knowledge that your very alliance no-shows in 80% of their matches). So are launching multiple attacks, opening fronts, controlling chests, castles, warcamps etc. You see, Albion Online is about all the structure, diplomacy, organization and economy. That's what make it AWESOME. That's what makes it unique (uniquely frustrating, yes - high risk, high reward). It's tiresome to do GvGs and battles every day, I know that. It's part of the structure created on sieges. We don't do it randomly, we do it because we know it works. I won't jump to conclusions here and tell you what to do, but maybe you guys should take a honest break from the game and re-think what you want from it/ if it is what you are looking for.
Now, don't get me wrong, this system has issues:
- Warcamps are too cheap, agreed.
- The lockout system is a shitshow to the point you don't know where or how you are locked, or even for how long. The lack of clear information about the games rules is ridiculous.
- Town plots GvGs are bad, to say the least. I THINK the DEVs mentioned they are re-designing it. Thank god. Idea: what if construction plots GvGs were 10vs10?
- Battle chest/bank chest creates confusion and unnecessary mistakes, agreed.
- Most of territories are useless and represent a chore (feeding it). We don't desire 70% of the territories we have actually. Also please bring back those sweet relic territories as the map was great for GvGs.
But, beyond those specific issues, economic/strategic war is part of Albion Online and we should protect it, not ask for it to be dumbed-down to themepark standards. Now, I do understand that it can be frustrating, but perhaps the problem is not necessarily into the game. Maybe it's on how you see it and what you expect from it. A 5 men group can't be compared to a 1.2k men alliance to the point of wanting equal resources and rewards (same number of territories, chests, etc) simply because they can win specific fights. Your 5 man could hold a farm/town plot forever, and that's an already fair reward for the effort.