I disagree with the lack of depth to the Albion Online Combat System
It has a very similar combat system to most MOBA's. Which is very fast pace and entertaining. I feel that because this was a first impressions video you missed out on the REAL PvE and the REAL PvP. PvE dungeons require a lot of skill, the blue dungeons are extremely difficult and require a lot of skill from the entire party and it cant be carried by just one person. Also the PvP is really engaging, depending on your class you need to be in the correct place at the correct time. All-inning can be a good or a bad thing. Being a mage and being in the front line will get you killed quickly.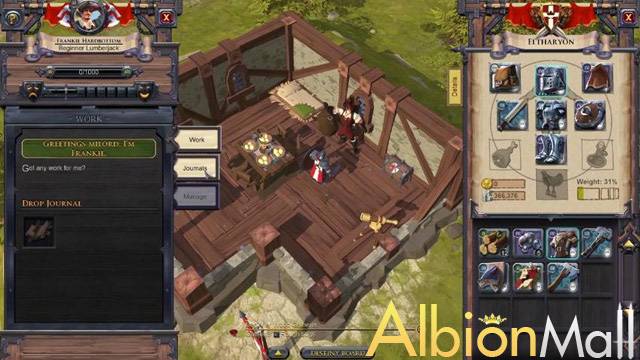 MOBA combat is very fast pace and action oriented, which is where mmorpg's are headed anyways. So i dont get this comment how it doesnt compare and lacks in comparison to other mmorpg's. Most MMORPG's are button mashers with tab targetting requiring almost no skill at all. This game however requires you to be in place and aim the majority of spells in the game. Like I said the first impression he got of the game was incomplete for him to make a ruling on the combat and pvp. He really didnt experience anything except a grind. He should of atleast leveled so he could do a dungeon. One that requires a 5-man group. He was only a couple hours away from it.
Albion Online has thousands of people playing every beta, how is it being overshadowed? The things it does well is the combat system, the dungeon system, the crafting system and the building system. It does offer new things such as a completely classless and new leveling system. Allowing one character to do everything potentially. The thing is most people don't get is that it's a SANDBOX meaning there are no objectives set in place by the game. You freely do what you want to do, and I know of people who never collected anything after getting there first set of gear. All they did was dungeons, pve, and eventually pvp. Never crafting anything, I also know of people who never pve and only gather. But it's not a quest system that tells you gather 5 of these... or 5 of those.. that's your level system, your experience.
And by heading that way, I meant combat is headed to action oriented combat... look at blade and soul... look at crowfall... they all offer action based combat... no they arent top down mmorpg but of the top down mmo genre they have changed the genre quite a bit and made something great.
Because you just need to be able to wear the gear... the ability to wear a piece of gear is a different level than gathering or crafting that item... he can just buy the item from another player with albion online silver. Take a look at android games... such as CSR2 or order and chaos 2 or modern combat 5... games on phones and tablets are not limited anymore.
Also the reason I think this game will last... is cause I have seen many people come back every single beta... even after playing 100s of hours... I played 400+ hours this beta... and 200+ every beta before... and I'm just the average user... a lot of people I know played 1000+ hours.
Means that people are enjoying playing the game... you don't just play a game for 1000 hours in a few month period cause your bored... they have been playing for 3 years already... and still are playing... and order and chaos 1 and 2 are both mmorpg.