Now the hard part would be where would Kings vs Queens fights take place
May I suggest the introduction of a Kings and Queens Army. It seems once the game settles many players become less active resulting in guilds having large player base but few active players. Right now many smaller guilds cannot get enough players together to even take on a Blue Dungeon. It seems you find guilds having 50 players but 3 active members.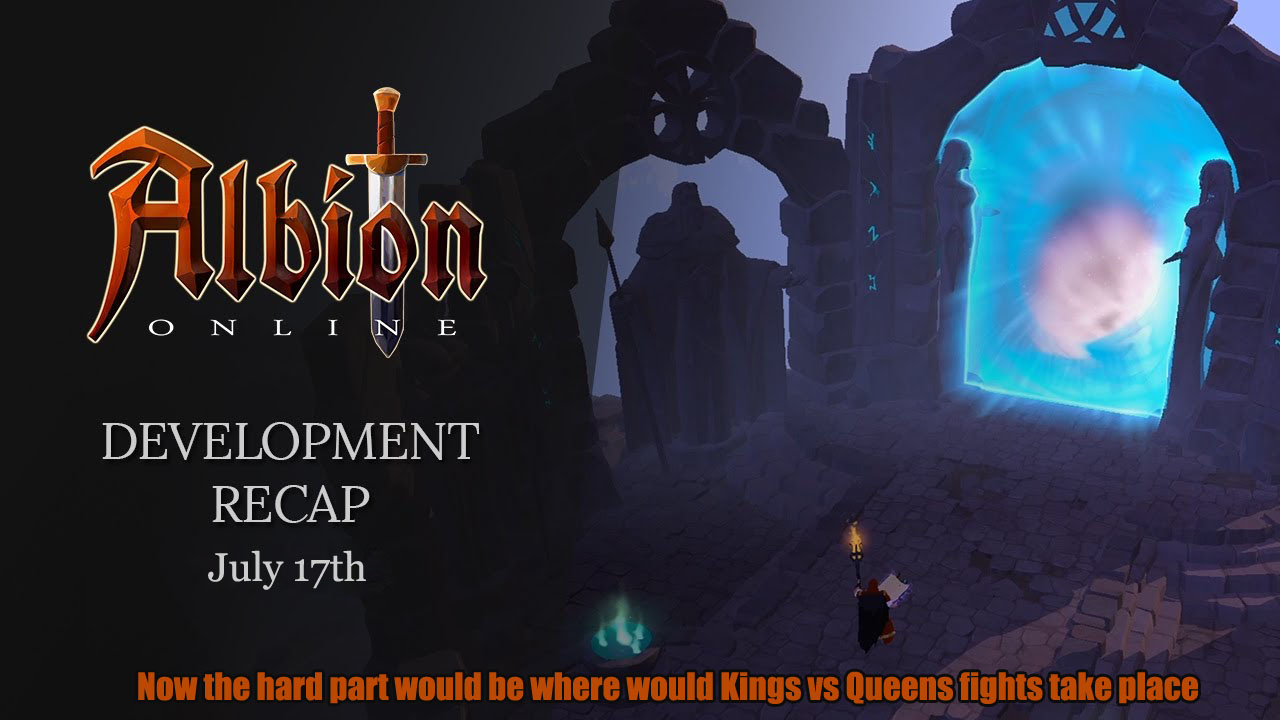 My suggestion would be to create a Kings/Queens Army, where those remaining active players can enlist to join the army. Once you join the computer will assign you a rank based on your history fighting, gathering, armour and weapon equipped. The more active you are the higher your rank will become. The system can then arrange time slots where players can group together to gather, pve, pvp or gvg.
This idea will also make the positive fame work because criminals will not be allowed to join the army. Players who then say are inactive for a certain period loose rank or are not selected to participate in group activities. Players who excel will be selected to join the Armies Special Forces division for Gathering or Carfting or GVG etc. These Special Forces Elite get perks in the form of Armour, Weapons Etc. Remember the Army has to sustain itself, player driven economy and all
Another add on would be to allow criminals to join a guild of bandits that can challenge the army in a yellow zone once a day just to introduce players into pvp with no loss of equipment.
It would be great fun to see automatic grouping of players who all of a sudden need to fight this war together against the bandits. The Special Forces of the Kings or Queens Army can also fight against other Guilds, this might add a new dynamic as many players stuck in small guilds may never get to take on the big guilds but grouped together they may become ....legends.
A albion online player's thoughts: The overall idea sounds good but I think it should be something simple. You can join one side or another if you don't have bad rep and it would be used for communicating with others with high standings (because those are the guys you can trust right?) to get dungeon/gathering/hellgate groups easily without having to join a guild. If you did gain rank I think it should be linked to the rep system too. Now the hard part would be where would Kings vs Queens fights take place. I dont think it should interfer with guild territories so they would either have to dedication yellow/red zone territories to it or make a whole new map. And the gvg would either have to be bigger or just make it a constant open world battle like gw2. I mean we are talking about faction here so both sides should have pretty high numbers. Something would needs to be put in place to even them out though. I would suggest it not be based off of numbers but activity. Like if if one side have a large difference in active hours then it would be locked out (not letting anyone else join). If people in guilds could join also, or guilds as a whole could join (if all their members have good standing at least) then that could be another box of content for pvp.