Regarding the concentration of territories in alliances and the overall GvG unbalances
Hey everyone,
Lately we've been seeing a good bunch of complaints about GvGs, so I'd like to bring a new idea to deal with some of the issues around it (not my original concept, credits goes to a guildie of mine).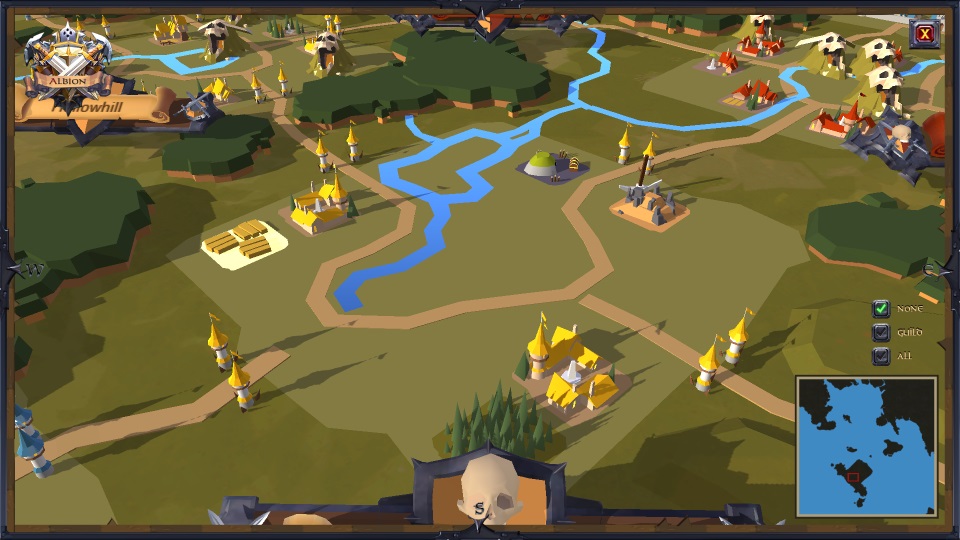 The issues:
- High concentration of territories on a handful of guilds;
- Very unbalanced GvG matches and the "ping pong" of guilds on resource territories;
- The whole town plot situation.
The proposed solutions:
- Remove negative defender bonus from the game.
- (THE ACTUAL IDEA) Add a system in which every guild or alliance has X (40 maybe?) positive defender bonus to spend on its territories. The guild or alliance chooses which of its territories will have positive defender bonus, and how many. The guild/alliance distributes the bonus freely (which can be removed by raiding and regenerate over time - there should also be some kind of cooldown to limit the re-distribution. Guilds wouldn't be allowed to redistribute bonus to a territory being attacked, of course).
Explanation:
- On the first idea: the ping pong of guilds on a territory creates a very unbalanced environment in which no real competitiveness exists. I've read again and again guilds trashtalking about how they played with -5 or -10 bonus and it was unfair. GvGs should be a the place of levelheaded PvP, but a virtual buff/debuff completely destroys that. More, the debuff allow guilds to "smartly" use it by losing a territory and taking back next without much effort. Removing negative bonus would implement a real competitive scenario and allow the actually better guild to win.
- On the second idea: guilds concentrate territories that are very hard or almost impossible to take due to a few reasons, namely:
a) They are good and should be rewarded for that. Nothing to argue here. Better guilds/alliances should win and have more territories. Working as intended.
b) Attacking routes are badly designed on a way it's almost impossible to reach certain territories/guilds protected by others.
c) High defender bonus of town plots make it very hard (specially in yellow zones against semi-competent guilds) to take. This means guilds that bought or stacked town plots early in the game have no concern of losing it. As consequence very few guilds have town plots.
Now, putting aside the reason "a", which is fair, reasons "b" and "c" should not be a factor on a competitive scenario. This new system I'm proposing would protect small guilds and their town plots/territories (which is, I believe, the intention of the DEVs with the defender bonus) and keep the territories of large guilds/alliances fighting more "volatile", susceptible to fair/balanced disputes. It'd also be a way to better spread the territories between guilds/alliances (specially town plots). This way small guilds would still have their territory protected by a defender bonus while giant alliances would depend on skill to defend theirs.
Changing the attacking routes or allowing guilds to "skip" a territory in order to attack another would also be a valid idea to complement the past one, but I'll try to keep it out as it is another discussion for perhaps another thread.