The OP's questions hit the crux of the problem with Albion Online
I bought a founder package last year but only seriously joined the beta last week. I have been playing solidly 10 to 12 hours a day for the last 4 days as I wanted to catch up to other players who are engaged in PvP in the red and black zones. Thing is, using only 1 premium-enabled character makes it impossible for me to catch up given the current game mechanics. At a minimum and to be somewhat useful at PvP, you need T5 gear and since everything is lootable upon PvP death, you would be wise to be able to easily re-craft and re-supply your gear. But before you can wear T5, you need to have achieved the required proficiency. You also should be self-sufficient in crafting each pieces unless you have unlimited access to significant cash. But before you can craft the gear, you need to be able to refine the materials to build them. But before you can refine the mats, you need to be able to gather the raw materials. But before you can gather the raw materials, you need to have achieved the required proficiency for each gathering tool, each having their own leveling tree (ore, lumber, leather, cloth and stones). There is simply not enough LP (Learning Point) to go around and once exhausted you have to do the tasks manually while travelling through multiple zones and returning to your one island, rinse and repeat X 100's of times. I like the idea of "specializing" but even with that concept, it would take many weeks, if not months, to bring each of your specialization to T5 level (main hand, secondary, helm, boots and chest) plus 5 x gathering skills. You need to level up the ability to 1) harvest, 2) refine, 3) craft, 4) wear and 5) use each Tier for all your specializations (Tier 8 is the current maximum but Tier 5 is a good place to start with the PvP).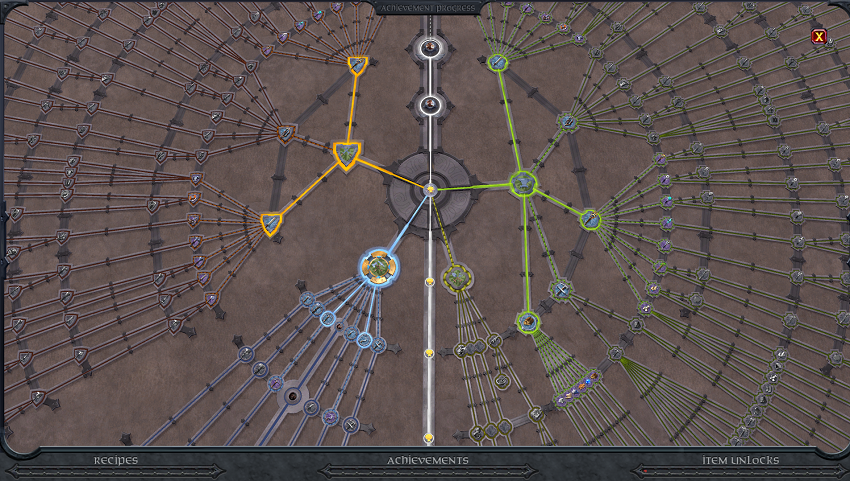 Each premium-enabled character currently costs 2,500 albion online gold per month (approximate value of $12 USD) per character. So 3 premium-enabled character on one account to generate sufficient Learning Points, provide sufficient farm lands and awkwardly manage LP points for combat, harvesting, refining and crafting among 3 characters would cost about $36/month. (Yes you can use in-game generated albion silver/albion gold to buy premium but you will not be able to generate profit with just one premium account).
I like the game. After 6 to 10 hours of play you will understand the gist of the mechanics. I like the specialization concept and it gives you many choices to branch out. Without Learning Points or when they run out (they regenerate VERY slowly per premium-enabled character only), it is incredibly tedious to manage. Currently, I cannot gather T5 materials because I do not have the tool proficiency which is a roadblock to refining materials to build T5 gear. I truly hope this system (model) is not 'working as intended" because I will not pay for 3 premium characters to be efficient in this game. I don't mind alts to play different styles but they should not be required to achieve some functional efficiency to compete.
Outsider is absolutely right: You will be playing at 33.3% of max efficiency with only 1 premium-enabled account. A solo account will barely provide you with sufficient resources for a very slow progression given the amount of individual criteria you need to level even with specialization.