The vast majority of players play in the equivalent of Albion's green zone most of the time
With Albion Online, our goal is to create a hardcore Sandbox MMORPG with full loot PvP and a fully player driven economy.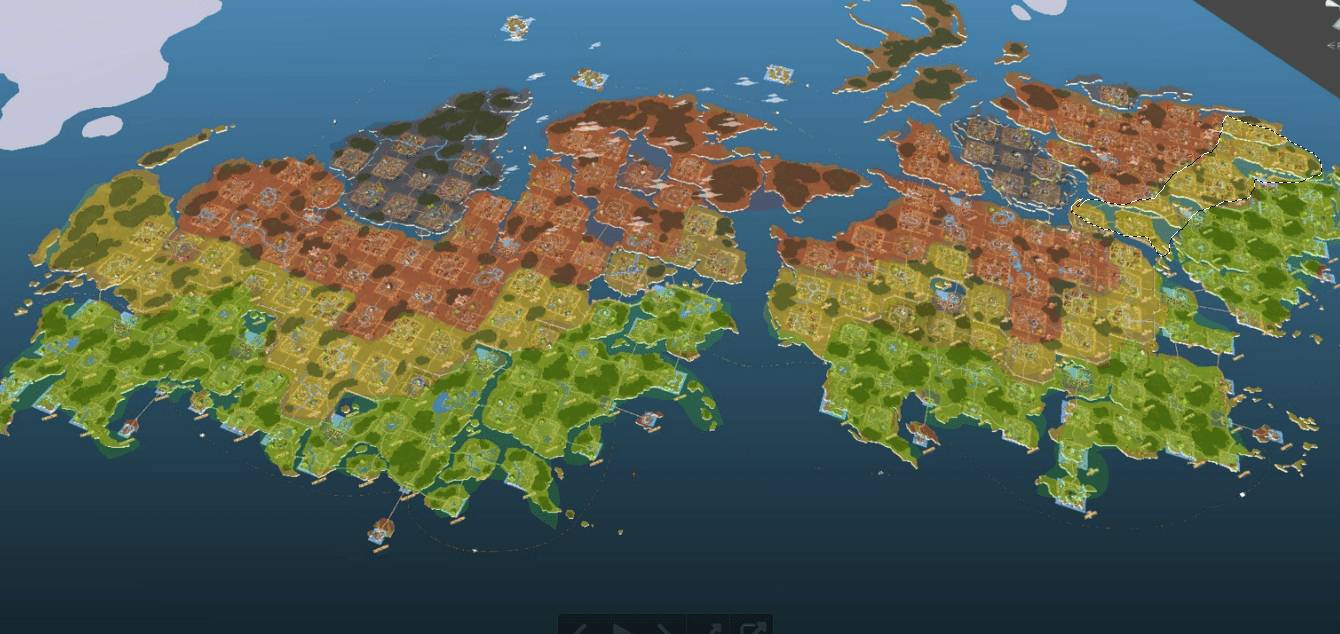 "Hardcore" vs "Casual" Debate - Our Stance
There have been many games like this in the past, such Mortal Online or Darkfall, that have not managed to maintain high population numbers. And once population is too low, even the hardcore players tend to leave as the game feels empty to them.
In this post, we want to share our view on the topic of hardcore vs casual players in Sandbox MMORPG games, and present our vision on how to make Albion Online a great game that will be there for the long term.
1. Symbiosis between "carebear" and hardcore players in Sandbox MMORPGs
The most successful hardcore Sandbox MMORPG of this day is without doubt Eve Online. Yet, in Eve Online, the vast majority of players play in the equivalent of Albion's green zone (high-sec) most of the time. Sounds like a contradiction? So should Eve Online "abolish high sec" and allow free PvP everywhere, like other games do?
Of course not. The fact of the matter is that huge number of safe-zone players actually provides the fundamental basis for the game's hardcore PvP elements to work. How?
Safe zone players create a lot of supply and demand for the player driven market
Safe zone players tend not to lose a lot of gear. At some point, they might have too much. What do do with too much gear that you can afford to lose? PvP!
Many players who initially start out playing it safe will graduate to PvP later on. However, this only happens if they stay in the game long enough in the first place
Safe zone players add and activity to the world.
A strong safe-zone foundation in a hardcore sandbox MMORPG will literally spawn an endless and lasting amount of hardcore play and PvP. If you take that foundation away - or do not build it in the first place - the game is not likely to last.
2. Have a great safe zone experience as a strong baseline for the world
We want to make sure that the safe zone experience in Albion Online is interesting and challenging enough to keep people hooked for the long term.
Of course, this does not mean copying games such as World of Warcraft - that would never be possible nor would we want to do so.
Rather, we want to focus on the strengths of Albion Online here: building up your character, gathering and crafting, progressing towards better items, being an active part of the player driven economy, farming, getting your player island, grinding mobs and doing some faction stuff.
If the safe zone experience is good, a lot of safe zone players will eventually transition to the red and black zones, join a guild or get involved in PvP.
If the safe zone experience is bad, some will still transition, but many will just quit. And as we have stated under 1. above, even those that stay in the safe zone forever still add a benefit to the overall game world and even indirectly support PvP action through their economy contribution.
3. No "forcing" players into PvP
Okay, so you might say: "I agree on point 1. above, but then wouldn't it be great if you forced players to venture into the PvP zones at some point?". The answer to that is no.
In general, if you really force a player into some activities that he does not want to do - even though he was quite happy with the stuff which he was already doing - then most likely that player will just quit
However, as stated under 1., that player provides a benefit to the overall game world and economy - it much be much better if he stayed even if he'd just stick to "carebear" activities
Therefore, we actually want to make sure that there is deep gameplay and lasting fun in all the safe/carebear activities that we provide the players with.
Instead of trying to force people into PvP, we actually want to encourge it and provide incentives to do so. See the next point.
4. Encouraging and enabling players to do PvP through top notch open world PvP content, rewards and features
So we are not forcing people to go into PvP. Does this mean that we do not want them to? Of course not. From our point of view, full loot PvP in red zones, fighting over territories, etc is very exciting and we would like for as many people as possible to give it a try. There is a lot of things that we have done in Albion that are helping with this:
Balance the economy in such a way that safe/yellow zone players are generally building up a surplus of silver and assets that they can then burn off in PvP zones if they like
Provide the best rewards in red and black zones, making sure that there is a strong pull effect towards them
Have exciting features and content that are exclusive to PvP zones (territory ownership, GvG fights, enchanting temples, castle fights, etc)
Have the yellow zone as a smoth transition between safe zone play and full loot PvP
Have our current PvP flagging system, that prevents mindless "kill on sight" if both parties are flagged blue
5. Summary
We have zero intention to copy or compete with classical casual/themepark MMORPGs.
Our goal is to create the best open world hardcore Sandbox MMORPG with full loot PvP - and we want to make sure that it lasts.
Providing a strong safe zone / casual player foundation is crucial to make this work.