Thoughts for those albion changes
While I don't mind these changes myself (too new to notice much), I do believe the game world needs help which would make travel and the game overall a lot more enjoyable.
-Zones are too small which causes more loading which loses a sense of immersion in the game. There is also WAY too many zones. It was a huge mistake to make this game world bigger.
DAOC had a lot of things that made travel much less of a hassle: WASD, speed classes (required for most roaming), auto-taxi horses, /follow, smaller/cleaner world layout, could autorun from A to B rather easily without having to navigate gaps/cliffs/dead ends that albion online's map is covered in, etc.
-My original point was at the start of DAOC there was almost no group speed and the world was HUGE and took hours to get around and yet no one complained. Long travel times are not necessarily a bad thing. The key thing here you talk about is you could afk while traveling. Following or being on a horse let you go take a piss or grab something to eat. The way this game is made these things are impossible and force you to either log out or afk in dangerous areas.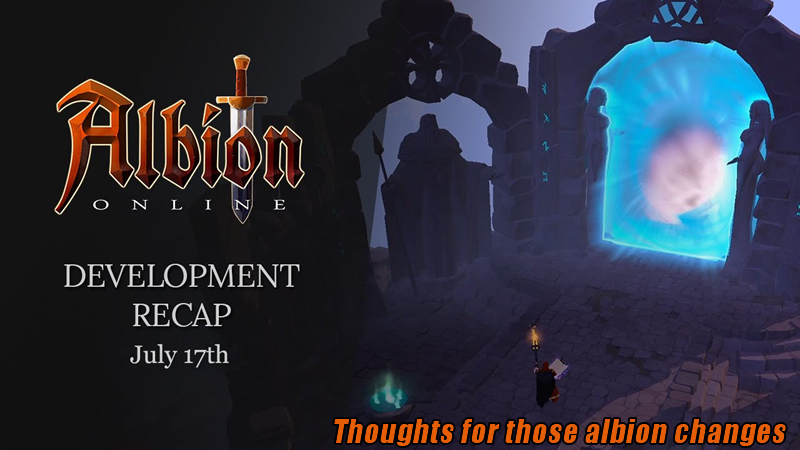 For me it's just the compounding of issues: click to move, slow speed,
have to follow the road or navigate maze world with less than amazing
maps, and everything so spread out with little in between.
I get what they are trying to do with the overall map, but it needs more than a bandaid.
-I don't mind the crappy graphics. I don't mind the boring map. The critical thing is the map is too big and there is no longer PVP. The band aid comment I made was more to do with making traveling faster which to me was a very minor issue compared to the more serious concerns happening with the game right now. SI "fixing" the traveling speed so quickly was just a complete surrender to the forum whiners. This will enable these whiners to cry louder and get more stupid shit put in the game.