Weapon Types vs Armor suggestion
In the current weapon setup, people already figured out the cookie cutter armor + weapons and roam with the same armor/weap.
but if weapon types did different damage against different types of armor? it would introduce another level of tactical depth to combat
we have cloth armor, leather armor and plate armor and piercing weapons slashing weapons and blunt weapons.
when the rules are that each weapon type is good against one armor type and bad against different armor type and plate armor is the best , cloth is the worst and leather is in between.
piercing weapons like spears, arrows and daggers do extra damage to leather but less damage to plate
slashing weapons like swords , glaives and axes do extra damage to cloth but less damage to plate
blunt weapons like maces and hammers do extra damage to plate but less damage to leather.
PVE animals and bandits wear leather
soldier types and undead - plate.
caster types- cloth etc.
I think it is easy to implement and the improvement to the combat system is massive.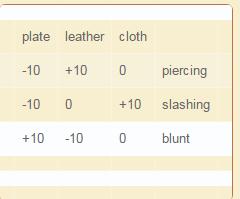 Since I got a tons of feedback (nope...)
I will say that my suggestion forks also with magic types: i.e fire magic will do more damage to cloth and less damage to plate, while ice magic will do less damage to leather and more to plate.
curse and arcane damage will do more damage to cloth and leather, no additional effect on plate.
so people will actually think before they choose material type and not only category or tier.
and another suggestion:;
to remove the confusion about enchanted armors ( aka tier 4.2 etc)
these will not be automatically included in the destiny board they will drop as a rare recipe loot from raids. and you cant learn them unless you have all the pre-requisite knowledge.
for example, when you reach t4 sword, you will have have only default option to continue to t5 sword, but if you get the recipe drop you will be able to unlock sword t4.2 train the branch and craft it eventually.
if this person don't have swords t4 but have bow t4 instead, he will not be able to learn the recipe and will give it to the guild or sell on AH.
this will make crafters unique and will stop the debate about why x.3 gear is better than (x+1).0 tier